8th Desert-Adapt Steering Meeting
Rome 20-21 October 2022
Palazzetto delle Cartine Geografiche
Via Napoli 36, Roma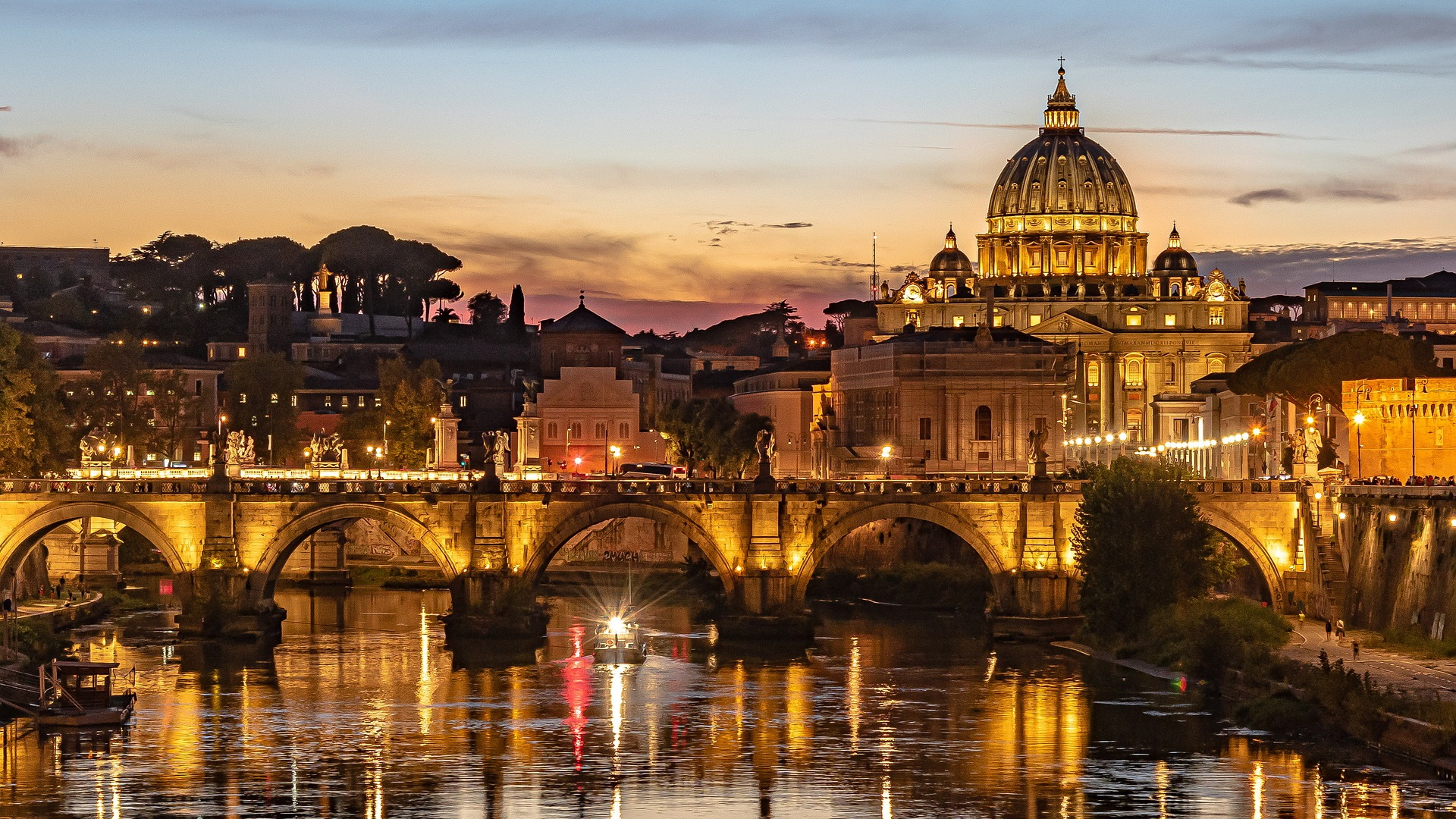 Joint CINEA/NEEMO monitoring and 7th Desert-Adapt steering meeting

May 11-13, 2022

Sicily, Palermo and Caltagirone 
15th December 2021 Webinar on teams
6th Steering Meeting Desert-Adapt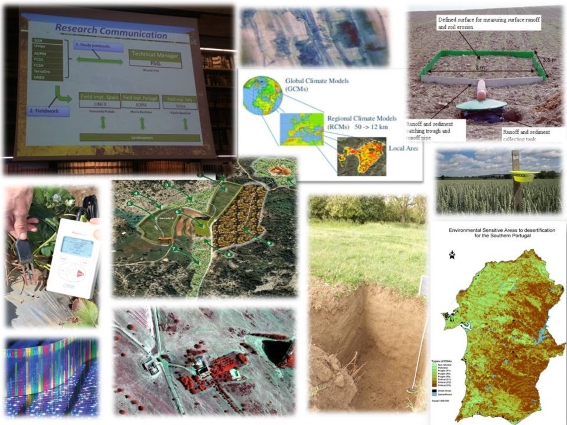 16th October 2021
Open day at site L5 Municipality of Hoyos (Spain)
Come to learn more about Desert-Adapt and about measures of adaptation at Hoyos in Spain with prof. Pulido and Hoyos partners. For all those leaving in the area of Hoyos and closeby join in to support the project and Hoyos municipality!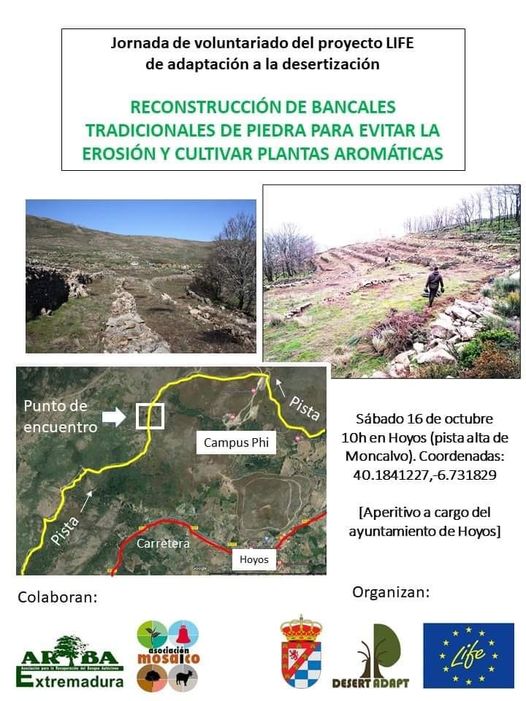 EVENT CLOSED

TO VIEW THE VIDEO OF THE REGISTERED EVENT GO TO  

30th September 2021

Time: 2.30-4.30 pm

All4Climate – Italy 2021 SIDE EVENT'S 

Opportunities and challenges to adaptation and sustainable land management in Mediterranean countries under desertification risk

Organizer (LIFE Project Desert-Adapt, Università degli studi della Campania Luigi Vanvitelli, Coordinator project) Co-organizer (Università degli studi di Palermo, project partner)

 To see the program
29th September 2021
Presentation of Desert-Adapt at the Networking event organized by Project GREAT LIFE
9.00-13.00 on Microsoft TEAMS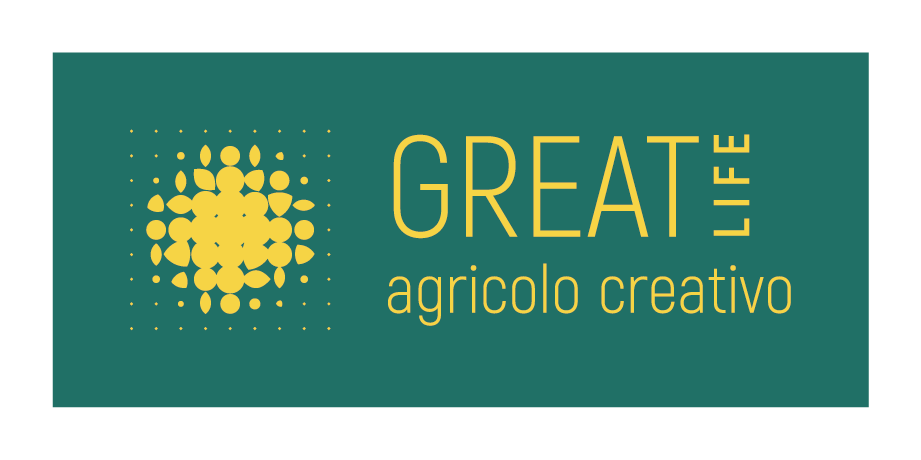 Participating projects
LIFE ADA Adaptation in Agriculture (LIFE19 CCA/IT/001257)
LIFE AGRESTIC Reduction of Agricultural GReenhouse gases EmiSsionsThrough Innovative Cropping systems (LIFE17 CCM/IT/000062)
LIFE EFFIGE Environmental Footprint For Improving and Growing Eco
Efficiency (LIFE16 ENV/IT/000172)
LIFE FOSTER Love food reduce wa s te (LIFE17 GIE/IT/000579)

July 2, 2021 - Mertola Portugal

 

OPEN DAY SITE L9

Inauguration of the pilot area (L9) of the "Sociedade Agrícola Vargas and Madeira", Mértola, Portugal, in one of the 3 implementation areas of the project. Owner Joao Madeira will present his Desertification Adaptation Plan (DAM) which is particularly centered on sustainable management practices of extensive grassland.

 

To see the implementation objectives of the L9 pilot site and the measures implemented go to the case studies page.

http://www.desert-adapt.it/index.php/en/case-studies/l9-madeira-pt
23-24 June 2021

5th Steering Committee meeting

 Teams webinar

 9.00-16.00 Wednesday 23 June administrative aspects; 10.00 -15.00 Thursday 24 June technical aspects.

 
May 2021
 Training activities for schools 2021
 The schools "T. Tasso "of Salerno (IT) and Istituto Comprensivo Medaglie d'Oro of Salerno (IT) participated with 5 classes and 92 students in Desert-Adapt 2021 training activities. The students participated in theoretical training seminars on climate change and risk desertification in the Mediterranean basin, biodiversity and ecosystem services, role of pollinating insects in ecosystem balance. They then followed a practical lesson to learn how to build "hotels for insects", shelters for pollinating insects and ventured into the construction of their "hotel" to be placed in outdoor environments available to small pollinator friends. To learn more and to know how to participate in educational activities, go to our page dedicated to teaching
http://www.desert-adapt.it/index.php/en/home-en-gb/desert-adapt-for-education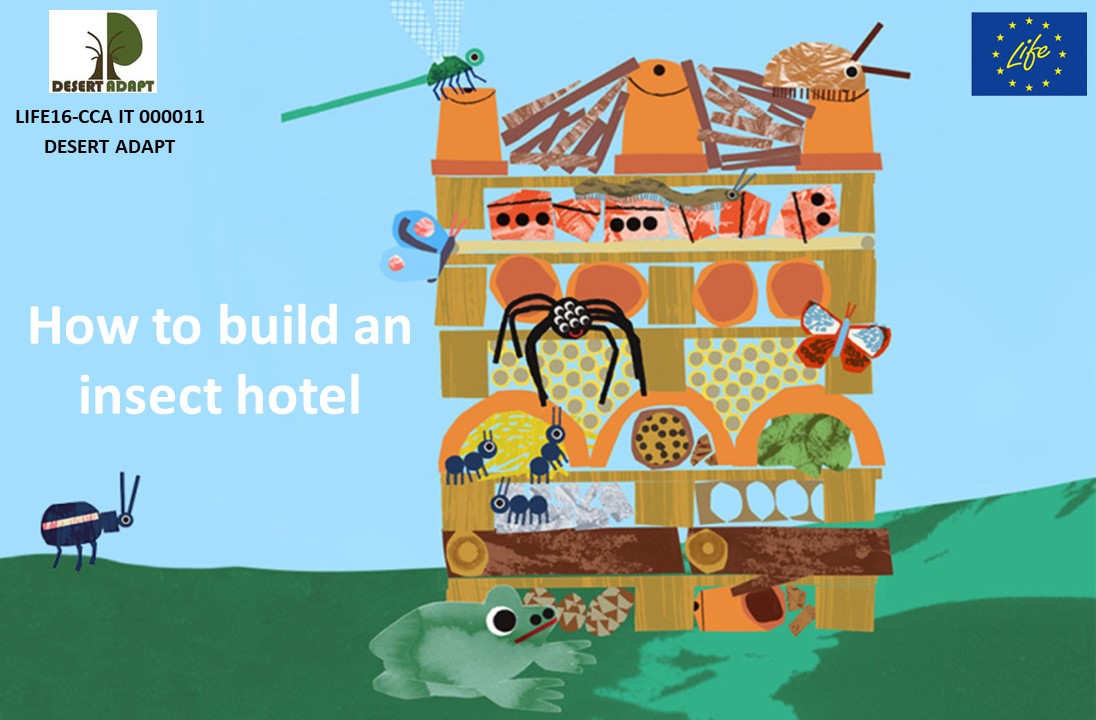 March 19, 2021
Open Day at the L10 Herdade da Sobreira pilot site, Beja, Portugal
Open day to learn the techniques applied in the L10 pilot site to promote biodiversity by creating growth conditions for young plants more favorable to survival in extreme conditions such as those found in our sites at risk of desertification, which reach extreme peaks for long months. temperature and are subject to prolonged periods of drought.
To see the implementation objectives of the L10 pilot site and the measures implemented go to the case studies page.
http://www.desert-adapt.it/index.php/it/casi-studio/l10-sas-pt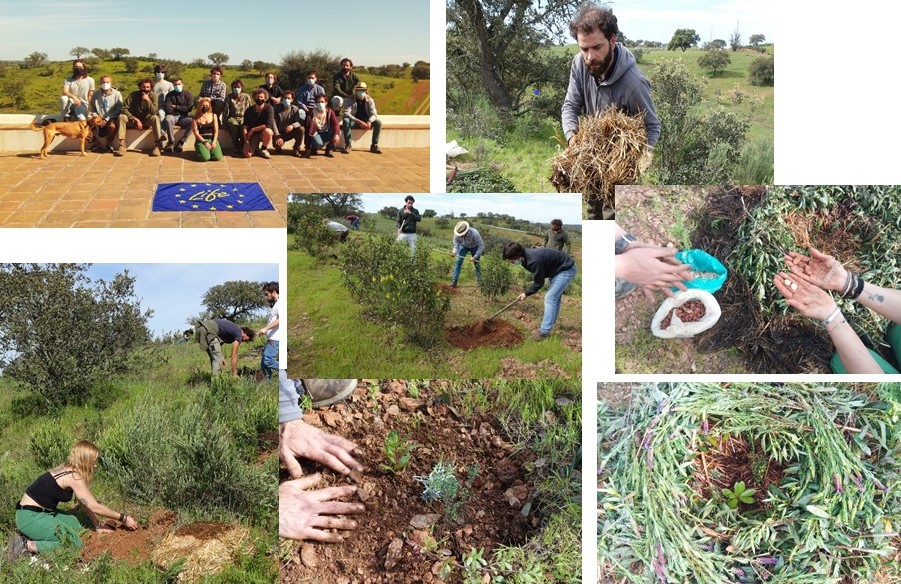 18-19th May 2020
4th Steering Committee meeting and EASME visit
 Scheduled meeting on the skype platform of the main project coordination group with EASME and NEEMO monitors. Virtual tour of DAM projects.
 9.30-13.00 Monday 18 May: technical aspects. 15.00-19.00 Tuesday 19 May administrative aspects.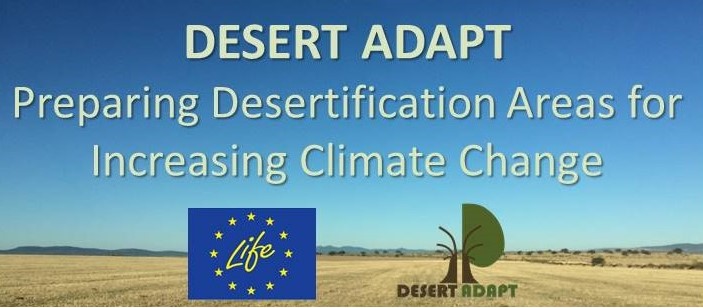 25-26 November 2019, Lisbona, 3° Steering Committee Meeting 
 Universidad de Lisboa (FCUL)
25 Novembre 9.30-17.00
26 Novembre 9.00 -13.00 
Venue: Faculdade de Ciências da Universidade de Lisboa Campo Grande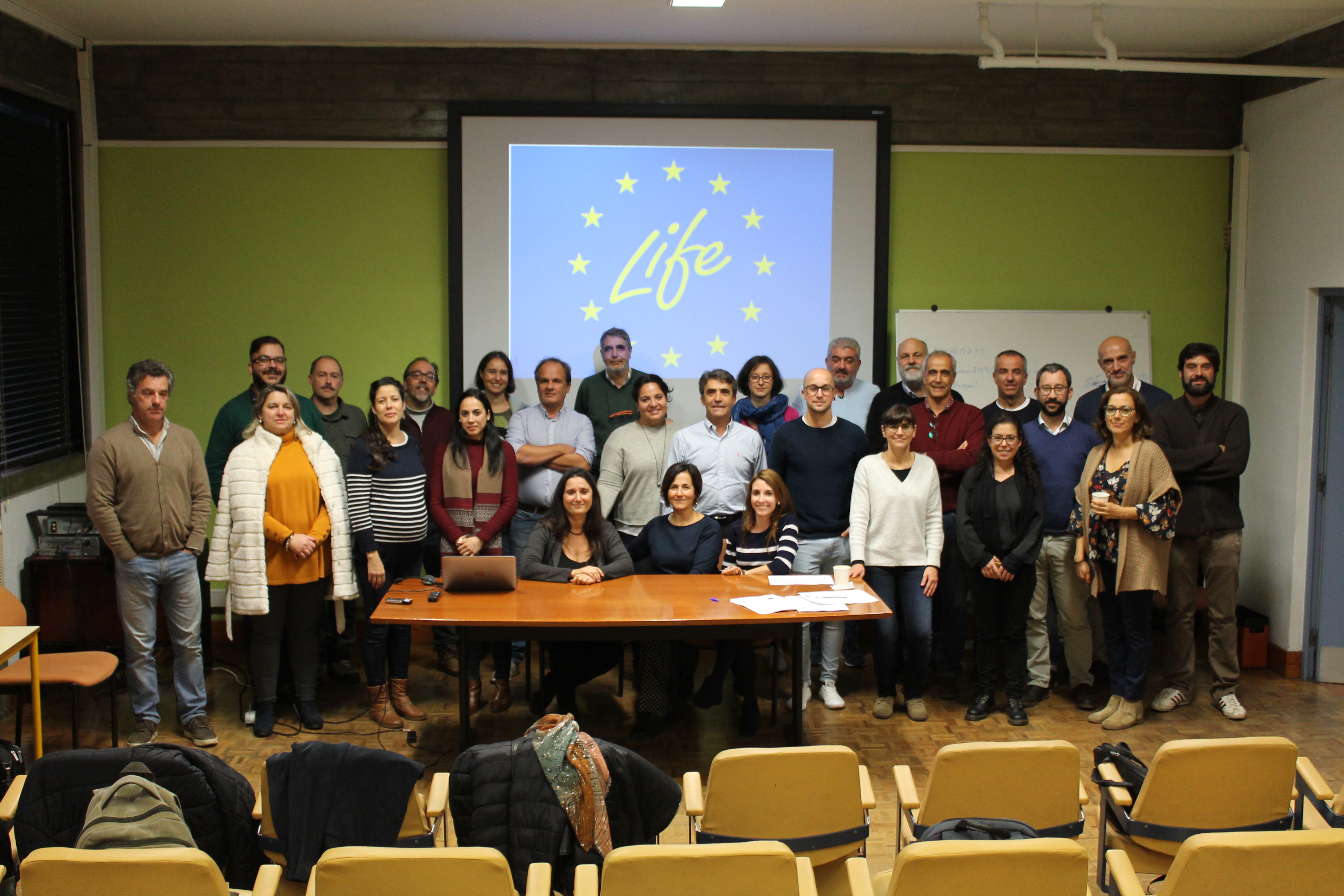 28th May 2019
Desert-Adapt Open training course "Investigation and prevention of pests and forest diseases"
Venue: Biologic Park of Cabeça Gorda (partner L8), Portugal
For further information, please contact This email address is being protected from spambots. You need JavaScript enabled to view it.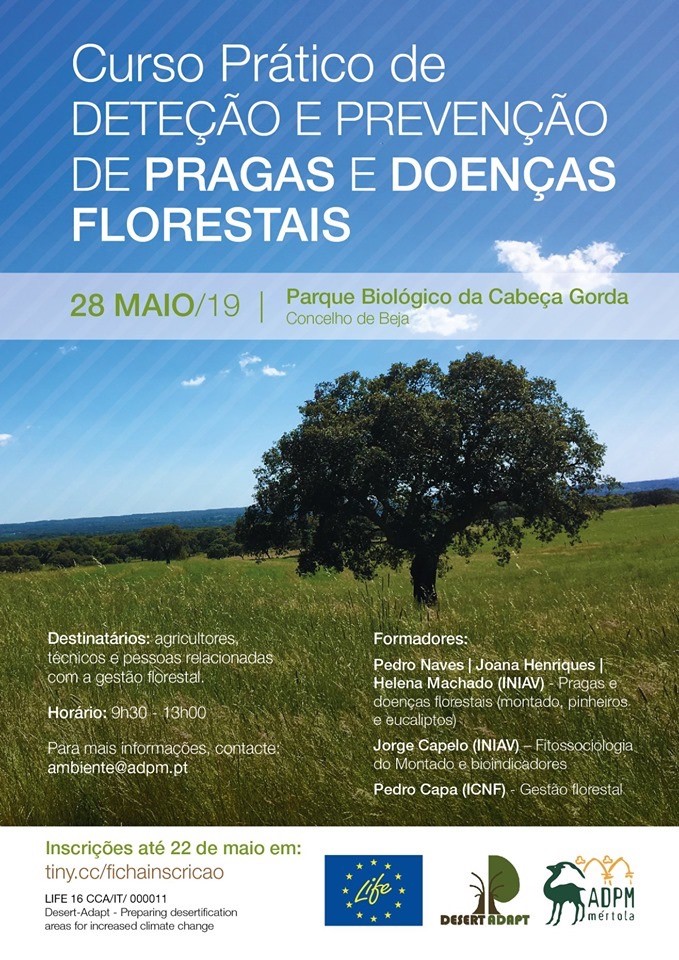 24-26th May 2019 
 Desert-Adapt Open training 
"Introduction to holistic and advanced pasture management" will be held in Mertola
 Venue: Mertola, Portugal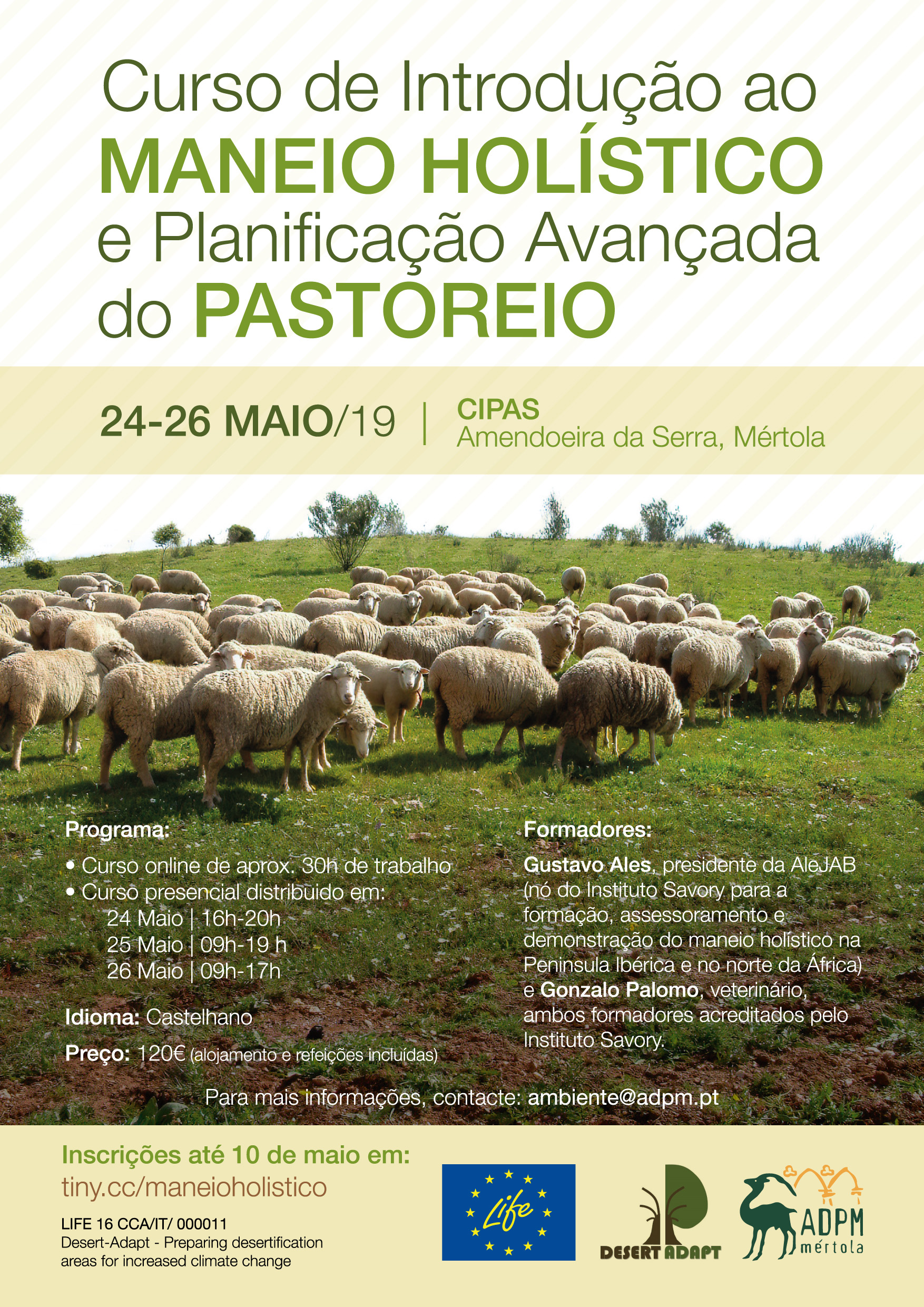 26-27 February 2019 Desert Adapt networking visits at Spanish sites with
 LIFE Montado Adapt, LIFE AgriAdapt and MOSAICO
February 26: visit to the Casablanca site, part of the LIFE Montado project
(https://www.lifemontadoadapt.com/) with the owner Enrique Vega.
Casablanca Farm (http://dehesando.com)
February 27: visit to the Campete farm, part of the project
Agriadapt Life (https://agriadapt.eu/) with the owner Alfonso García
and project coordinator Laura García. (+ info: http://www.wagyuiberico.com)
Visit on 27 February II: site of the Mosaic project in the municipality of Villasbuenas
with owner Luis Mariano García and project coordinator Fernando Pulido.
(+info https://www.mosaicoextremadura.es)
26 February 2019
2nd Steering Committee Meeting  Desert-Adapt
Venue: Universidad de Extremadura, Plasencia, Spain 
8.30 -12.30: Centro Universitario de Plasencia, Avenida Virgen del Puerto, 2